UTMSimulator
Soul Software is developing an UTM Simulator, a platform that will help to validate different UAS traffic for VLL scenarios.
The Cloud infrastructure will enable the collaboration among people working on the same scenario, potentially reducing the preparation of a study, enabling the scalability, optimizing the computational resources used.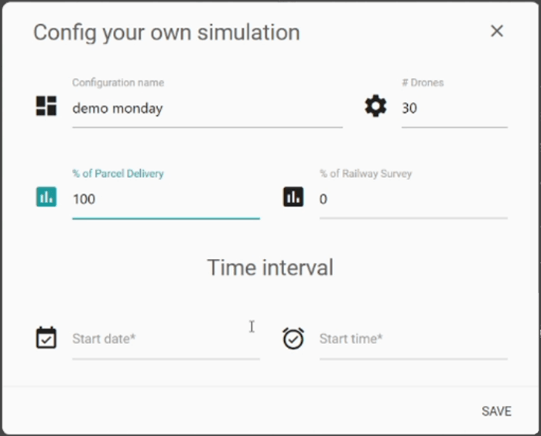 The user can create different scenarios, with custom boundaries ranging from single cities to a region.
He can add obstacles, flight rules and mission constraints (parcel delivery, railway survey)
OpenDEM data are used for the elevation info.
Scenario Creator​
Boundaries editing​
Buildings editing
UTM Simulator Planner​
Mission creation & Constraints​

Parcel delivery​
Railway Survey​
Manual Path​

Configuration (# uas, mission distribution)​
UTM Simulator Planner
Stochastic UAS Flight
Plancreation
Obstacle Free Plan

Avoid buildings and Not Authorized Zones

Flight Plan Filtering
UTM Simulator Planner
2D/3D path visualization
UAS Flight Plan export
Scenario Creator
Building importing
DEM importing
UTM System Simulator
Importing UTM constraints


Restricted zones
Height restrictions
UTM Simulator Planner
Mission creation

Taxi drones (Corridor)
Power Line Survey
Medical Supplies And Medicine Delivery

4D Flight Plan creation (with performances)
Strategic uas Flight Plan deconflicting
UTM Engine
Scenario import
Real Time Flight Track generation
External System track interface
UTM Engine
Weather effects
Detect & avoid algorithms
UAS Traffic Analyser
Statistics based on simulation data:
# Collisions
# Miles flown
Traffic density
Traffic Visualization
2D Real Traffic visualization
3D Real traffic visualization
UTM Engine
Simulation recording
Simulation playback
OPS!